Periodontology: Healthy Gums for Healthy Teeth
Periodontology: Healthy Gums for Healthy Teeth
Periodontology is an important branch of dentistry dedicated to the diagnosis and therapy of diseased gum tissue and bone surrounding the teeth. Periodontal disease left untreated can lead to bone destruction and premature tooth loss. Our practice is specialized in the treatment of periodontal disease. Dr. Schulte worked together with renowned periodontologists during his postgraduate studies and uses state-of-the-art techniques in his daily practice. We can offer our patients the complete spectrum of modern periodontal diagnosis and therapy:
Prophylaxis and Dental Hygiene by highly qualified dental hygienists
Bacteriological and genetic tests for the diagnosis of periodontal disease
Gentle laser treatment for effective decontamination in the gum pockets
Surgical perio therapy with guided bone and tissue regeneration techniques (GBR/GTR)
If you are interested in specific topics or if you want to read the chapter in sections, please choose from the following bullet points:
Gum problems: from gingivitis to periodontitis
Therapy: periodontitis is curable!
Mucogingival Surgery
An attractive smile is the harmonious composition of teeth and gums. Gingival recession, e.g. as a result of periodontal disease, can lead to a significant deterioration of the cosmetic appearance. See the example:

Sometimes the excess of gum tissue can also compromise the aesthetics: Teeth crowns appear too short as they are covered by a overgrowth of gum tissue. This is also called gummy smile.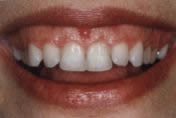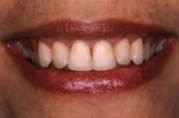 Gummy smile before and after microsurgical crown lengthening using the laser
Also in such cases, aesthetic periodontal surgery can remedy the problem: With the laser, the excessive tissue is gently and without pain removed leaving a harmonious tooth shape.
Sometimes periodontitis and bone degeneration is so advanced that surgical reconstruction of the lost tissue is no longer possible. Often these defects result not only in an aesthetic impairment but also a phonetic problem. The only solution for large gingival defects is a gingival mask. After an impression is taken, the laboratory creates an extremely thin gingival coloured resin mask that adheres perfectly to the teeth. This removable piece dramatically improves aesthetics and phonetics and fits comfortably for the patient.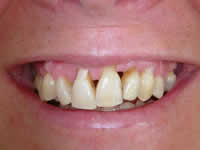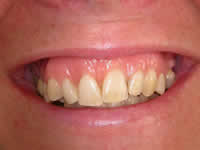 Left: This patient, after a recovery from periodontal disease, has severe gingival defects in the visible front teeth area. She feels uncomfortable with her compromised appearance.
Right: By placing a gingival mask, we have reached an aesthetic reconstruction that satisfies the patient.
Questions and Answers about Periodontal Disease