Paediatric Dentistry in Lucerne
Why paediatric dentistry?
Children have had their own specialist physicians – paediatricians – for ages; in dentistry, there is now also an expert for children's teeth: the paediatric dentist, also known as paedodontist.
Because a milk tooth is not merely a smaller version of an adult tooth, maintenance of milk teeth is extremely important for the correct development of the adult set of teeth; wrong treatment or their premature loss can lead to tooth and jaw problems with life-long consequences, the later correction of which may be laborious and complex.
In addition, our young patients have their very own special demands: Their fears need to be taken seriously; their treatment requires an ambience suitable for children and different methods than those for adults. The greatest requirement, though, is a great deal of patience, understanding and empathy in order to gain the children's trust. Many adults suffer from a fear of dentists (dental phobia) for the rest of their lives, because they were traumatised as children by an unsympathetic and insensitive dentist. This must not happen!
For that reason, we are very happy that our team of experts is joined by an experienced dentist with an additional qualification in paediatric dentistry. When we built our new practice rooms it was our aim to realize a child-friendly ambiance with separate waiting and treatment rooms just for our little patients.
If you are interested in specific topics or if you want to read the chapter in sections, please choose from the following bullet points:
Our pediatric dentist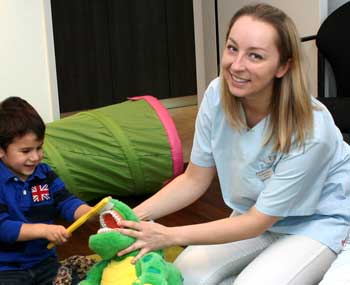 is an experienced dentist who is certified for pediatric dentistry. After completing her education at the University of Hamburg, she worked for eight years in leading pediatric dentistry practices in Germany and England and successfully passed the "Pediatric Dentistry Curriculum". Miss Dr. Iwanski loves working with children and has a lot of patience and empathy even with a little more difficult or anxious little patient. Their goal is to build trust and make the treatment a positive experience.
At this point, we publish letters we received from the parents of our little patients.
Since her first visit to Dr.Iwanski our 3 year old daughter is so excited that she wants to become a dentist. Dr.Iwanski immediately finds the right wire with the child and has the necessary empathy and patience. We recommend!
In this practice, the child's concerns are addressed! Dr.Iwanski and Ms. Joseph have taken a lot of time for my daughter, explained everything to her and presented her patiently so that she does not develop any fears. They took great care of the "Angspatientin" and we were able to successfully carry out the treatment. My daughter and I left the practice satisfied and proud! Thank you very much.
My daughter Alessa had a serious dental accident about 3/4 years ago. Right from the beginning, my daughter felt comfortable in the practice and thanks. Iwanski got along very well. I can only recommend the practice. We are more than satisfied, many thanks!
Dr.Iwanski was very affectionate to our two girls at the annual inspection visits and was able to easily take away their fear by talking in a funny way and by controlling their teeth with their pleasant manner. The subsequent reward (toy) for the girls completed the visit brilliantly. We are completely satisfied and recommend to all parents a visit to Dr.Iwanski
The pediatric dentist is very empathetic and is very responsive to the child. Each step is announced and described in advance. The care is excellent. The child is distracted during the treatment by a funny movie. And most importantly, waiting and treatment rooms are designed for children.
Our daughter Calista had had a bad experience with another dentist, but with Dr. Ing. Iwanski instantly got her confidence and went along great. I recommend them to every family with children. The whole team is very patient and cares for the patients. It is a pleasant and relaxed atmosphere that makes you forget where you are. Even Calista was fine and she will come back.
Very nice and geared towards children. My daughter thought it was great and will like to come back without fear.
The pediatric dentist explained and showed my daughter at the crocodile what she wants to do with her. She understood her understandingly. As a mother, the procedure was explained and my questions answered simply and clearly. The patching of the holes was painless and fast on the stage, so very different than I know it. The encouragements, the praise and the cartoon made everything even easier. The "Gschänkli" afterwards pleased her. The visit to the dentist is now a happy event for my children.
Our Severin was lovingly received and with the introduction / explanation with the crocodile fears were reduced. We have received an informative brochure and recommendations. Thank you very much. We look forward to the next visit to the dentist.
The first dental visit from our son Fabio was without problems, as we were warmly welcomed and the practice is very child friendly. Miss Dr. Iwanski was able to carry out the exam without any problem for me.
My daughter had to pull a tooth. I never thought that everything would be so relaxed. My daughter was totally relaxed and had no pain. Many thanks to the great dentist, who was amazingly sensitive and friendly. Thanks also to the great assistant.
The first appointment with the pediatric dentist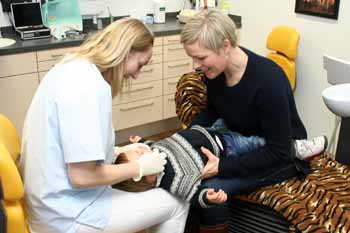 The purpose of the first visit is to allow the child to meet our paediatric dentist and see our dental practice and to develop trust in this new environment.
To ensure a positive first impression, we have made every effort to create a child-friendly ambience for our young patients in order to introduce them to dental treatment in a playful way.
With attention to detail and small gifts, we want to make sure that the child has good memories of this first contact with the paedodontist and feels positive about coming back.
For that reason, there should ideally be no actual treatmentat the first appointment. However, the paediatric dentist will have an opportunity to get to know the young patient and toassess his treatment needs. This comprehensive examination also allows the experienced paedodontist assess the child's willingness to receive treatment.
During the planning of the upcoming treatment, the children's dentist can discuss with the parents whether the use of sedatives (sedation) or laughing gas may be advisable for a nervous, fearful child. If it can be foreseen that a child will refuse treatment altogether, it can be carried out under general anaesthetic.
The examination will also show whether poor nutrition may have been the cause of dental damage in the child and whether the parents might require nutritional advice. Prophylactic treatment for children may help in learning proper techniques for brushing teeth. Orthodontic treatment (braces) may be required to treat misalignments of teeth or jaws (dysgnathia).
Please download the registration form for children and return the completed form at your first visit.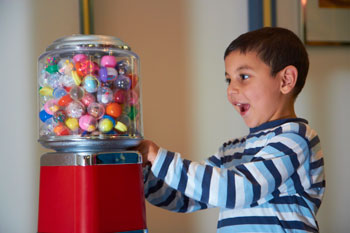 Diagnosis: Detecting dental decay Modern caries diagnostics for children
Unfortunately, even today far too many milk teeth fall victim to caries. However, maintaining milk teeth is crucial for the unimpaired development of the permanent teeth. For that reason, the early detection of caries damage to milk teeth is important, while it is still limited and has not yet affected the nerve (pulp). Once a cavity in the tooth has become painful, it is often too late for a filling. In addition to the usual visual examination of milk teeth, we employ the following methods in the diagnosis of caries:
X-ray

Laser diagnostics

Transillumination

Assessment of caries risk
X-ray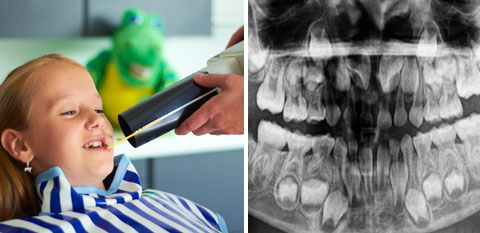 It is a known fact that up to 70% of all caries damage to milk teeth is only detected in the early stages by X-ray. The state-of-the-art digital X-ray appliances produce a very low radiation exposure and thus are particularly suitable for children.
When is an X-ray examination advisable for children?
For new patients, it may be advisable in some instances to obtain a dental panoramic radiograph (orthopantomography or OPG) in order to get a picture of the child's dental development and to rule out any developmental disorders.
For children prone to caries: two annual intraoral bitewing radiographs.
From age 3: annual check-up of interdental spaces with a bitewing radiograph
Laser cavity detector (Diagnodent)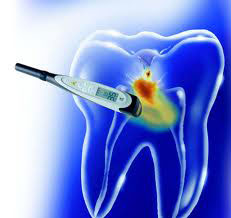 This new non-invasive procedure is based on a laser beam whose reflection in the tooth is measured and evaluated by an electronic sensor. Scientific studies have confirmed a high success rate in the detection of hidden cavities.


Trans-Illumination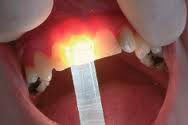 In this procedure, a strong light is shone through the tooth. If caries is present in the interdental space, the refraction of the light changes and a dark spot appears.


Assessment of caries risk
The caries risk of a child depends on a number of factors:
Dietary habits (particularly foods containing sugar and carbohydrates)
Cleaning habits (how often and how thoroughly)
Saliva consistency and composition
Bacterial activity in the mouth
Surface structure of the teeth (quality of dental enamel, depth of grooves and pits in the enamel)
Use of fluoride
In some cases, specific tests on the saliva can provide insights about individual caries risks.
How we treat (milk) teeth

Caries has a tendency to develop in the dental fissures, i.e. the grooves and pits on the chewing surface. This is also known as fissure decay.
To prevent this problem, the fissures in the teeth can be sealed with a liquid synthetic sealant, hardened by a special light.
If caries has already developed on the chewing surface, extended fissure sealing is used: the caries is gently removed with the drill, the defect filled and the chewing surface then sealed.
However, the latest recommendation is no longer to seal all teeth across the board. If a child is particularly prone to caries or has particularly deep dental fissures that make cleaning difficult, sealing of teeth still remains an advisable preventive treatment for dental decay. In fact, both milk and adult teeth can be sealed. However, sealing only protects the chewing surface of a tooth; the interdental space, also at high risk of caries, cannot be sealed.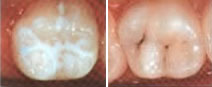 Milk teeth and permanent teeth are mainly affected by three types of caries:
Occlusal (fissure) caries in the deep fissures and pits of the masticatory surface
Approximal caries in the hard-to-reach interdental (approximal) space
Smooth surface caries in the front and rear smooth walls of the teeth mainly develops in children as the result of poor nutrition, e.g. sugary drinks in feeding bottles.
Fillings in both milk teeth and permanent teeth are now generally made from tooth-coloured (white) materials which, if applied correctly, can last permanently. That is very necessary if you consider that children often only lose the last of their milk teeth at the age of 13.
The following materials are used in fillings:
Composite fillings: The high-quality synthetic resin used for permanent teeth is also good for milk teeth. Composite is tough, durable and also suitable for larger defects.
Compomer fillings: Compomer fillings are less mechanically stable than composites and are mainly used to fill smaller defects in milk teeth.
Glass ionomer cement filings: Glass ionomer cement formulations stand out for their ease of use. However, in terms of life expectancy, they cannot compete with compomer or composite fillings. For that reason, their use is limited to temporary fillings and to milk teeth not expected to remain in the child's mouth for any length of time.

Because the premature loss of baby teeth can cause lasting impairments to the development of permanent teeth (lack of space), it is very important to preserve the baby teeth.
A baby tooth crown is used if a milk molar has already been damaged by caries to such an extent that a normal filling is no longer an option. Crowns protect teeth from caries and stabilise them mechanically.
Thanks to crowning, the milk molars with their important role as place holders for the permanent teeth can generally be preserved for many years.
When is a milk tooth crown indicated?
In cases of advanced caries when a normal filling is no longer an option.
For milk molars after root treatment.
In case of enamel defects (enamel malformations), in order to protect the tooth from caries.

Steel crowns are particularly durable and used in the back of the mouth on milk molars. Children rarely seem to be disturbed by the metal appearance – on the contrary, many kids consider it "cool".



White crownsare steel crowns coated with resin or made completely from resin. They are more suitable for the front teeth (incisors) and guarantee a metal-free smile.



Root canal treatment of milk teeth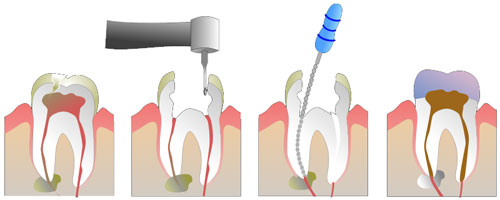 Treatment of the nerve or root of a tooth is always necessary if the dental nerve (pulp) is inflamed or necrotic (dead). As caries tends to progress quickly in comparatively soft baby teeth, the nerve is soon affected, which generally becomes noticeable through pain or discomfort.
Very often a small painless fistula develops at the edge of the gum with the appearance of a small blister, sometimes with a small discharge of pus.
Regrettably, even today many milk teeth that could easily be saved by root treatment are extracted far too quickly because of caries or fistulas
Milk tooth root treatment is used if
Deep caries has penetrated to the nerve (pulp).
The tooth has died as the result of an accident.
During root treatment – naturally under anaesthetic – the entire affected dental nerve (pulp) is removed and the root canal enlarged, cleaned and filled with special root cement.
If the caries has already reached the nerve, but the nerve is still healthy (no inflammation, no pain), it is generally sufficient for milk teeth to remove the upper part of the dental nerve (crown pulp). The remaining nerve in the roots is covered with a medicated filling and remains vital, i.e. is not killed. This procedure is known as pulpotomy.
Milk molars are ideally fitted with a milk tooth crown after root canal treatment for protection, in order to prevent them from breaking.
Treatment options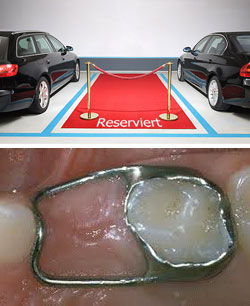 Despite all the treatment options available, it is not possible to save all milk teeth destroyed by caries. The premature loss of a baby tooth results in thedisplacement of teeth and a lack of space when the permanent teeth come through. This can lead to misalignments in the permanent teeth which necessitate elaborate correction with dental braces.
To prevent this, it makes sense in many cases to replace an extracted milk tooth with a place holder. This place holder assumes the function of the lost tooth and keeps the space for the permanent tooth. In this way, the gap is stopped from narrowing, thus allowing a smooth transition to the permanent dentition.
Place holders can be fixed (attached to the neighbouring tooth) or removable, like removable braces. Our paediatric dentist is happy to advise on the best place holder solution for your child.
Orthodontics
While these days most orthodontic treatment with braces is only performed during the latter stages of the mixed denture, from about the age of 12, there are some particularly serious misalignments of teeth and jaws that need to be diagnosed and treated in infancy.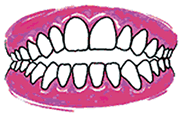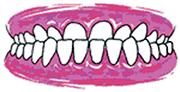 Source: Austrian Board of Orthodontists (VÖK)
The misalignments of teeth and jaws can be congenital, but quite often are the result of bad habits. It may look sweet when babies suck their thumbs, but the result can be severe developmental impairments affecting teeth and jaws, such as open bite, crossbite, protruding teeth or a narrow jaw. In addition to thumb-sucking, there are other harmful habits such as the consistent insertion of other fingers or foreign bodies into the mouth or permanently pressing the tongue against the teeth.
Sucking habits should be stopped once the child has reached the age of three in order to prevent later and lasting damage.
A paedodontist can recognise such maldevelopments and initiate early treatment. Treatment consists of simple removable devices such as a vestibular plate.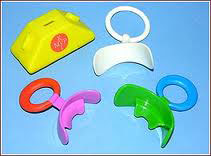 The vestibular plate looks a little bit like a baby's comforter and is used for early orthodontic correction. Its purpose is to stop children from sucking on their thumbs or a dummy. In addition, when fitted with an oral screen, it can also prevent the tongue from being pressed through the teeth. An open bite caused by sucking can thus be easily treated.
In difficult cases or for older children, treatment can also be administered by our orthodontic specialists in the Dental Team Lucerne who are expert in dental braces for school children, adolescents and adults. For school-age children, it is always advisable to visit the orthodontic specialist for a check-up.
Prevention for children's teeth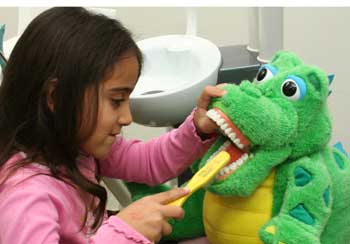 We want our young patients to enjoy good teeth and healthy gums throughout their lives. The prerequisite for this target is perfect oral hygiene from a very early age.
In cooperation with our dental hygienists and dental prophylaxis assistants, our paedodontist has developed special prophylaxis programmes for children. In a manner understandable to them and appropriate to their age, children are shown the best way to clean their teeth. For children prone to caries, a saliva test can be used to determine their caries risk. In addition, the tooth enamel can be hardened using a fluoride varnish.
Additional information on children's teeth